For Zillow and HotPads, you can check the syndication status of your listing its "Listing Status" tab.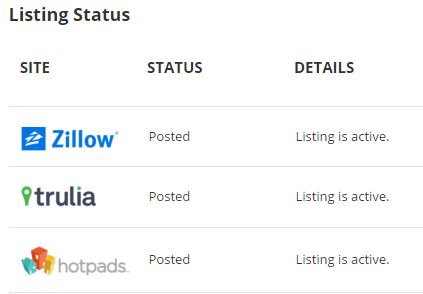 We don't have visibility into other third party systems, the best way is to search for unique identifiers (part of the listing subtitle, name, address, etc.), and don't forget to filter on attributes such as number of bedrooms or bathrooms, on the respective third party sites.
Note: Syndication is not immediate. It can take up to 2 hours for syndication to Zillow, Trulia and HotPads.  It can take up to 24 to 48 hours for a Listing to appear on other sites. If you have incomplete or inaccurate information (e.g. you don't include the full address), your listing may not be processed by our syndication partners. If your listings are also syndicated from another source, that may also interfere with syndication from Zillow Rental Manager.