To view when a payment is expected to deposit into your account, and when your tenant initiated their payment, navigate to your payments dashboard. On your listing in Zillow Rental Manager, click Manage tenants, then View all payments for additional details.
If a payment has been initiated by your renter, it will reflect as Processing and you can see the date the payment was initiated and when it is expected to deposit. Depending on their payment method, it can take 3-5 business days for financial institutions to process the payment and deposit it into your account.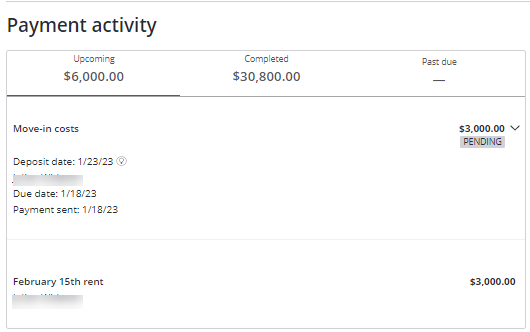 Credit card and debit card payments are typically deposited within 3 business days after the payment is initiated, while ACH payments take 5 business days.
If it is your tenant's first rent payment, it usually takes a few extra days (7-10 business days) to process and deposit to your account for security reasons.
Please be advised the deposit date on the payment dashboard and the email that was sent, shows the date that the payout was initiated to your bank. When a payout gets initiated, it takes one business day to be processed and deposited into the landlord's bank account.
*Processing time does not include weekends or holidays.