To list a room for rent, add a new property card with the full address and check the box to indicate that "This is a room for rent with a shared living space":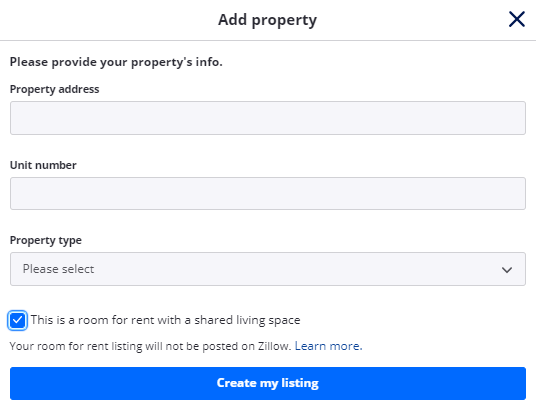 If you are posting a Room for Rent listing through Zillow Rental Manager, your listing will be posted to HotPads and show Declined on Zillow and Trulia. Room for rent listings do not show active on Zillow or Trulia.
We do not have the option to remove the room for rent designation from a property card at this time, so if you selected the room for rent category by mistake you will need to deactivate the listing and create a new listing. Ensure that when creating your new listing you do not check the box that designates your listing as a room for rent. You can find instructions on creating a listing here.
Please note, our applications, and lease builder and upload features are not available for listings in this category. However, you can still manage and edit your room for rent listing through Zillow Rental Manager to appear on Hotpads.